Order your copy of THE quintessential resource of 19th-Century European Painting and help support future artists in the Greater New Orleans area!  100% of the proceeds from the sale of RFA founder Bill Rau's latest book will be donated to the Rau for Art Foundation.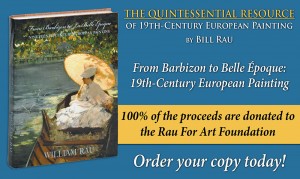 From Barbizon to La Belle Époque, Ninteenth-Century European Painting is a scholarly yet approachable book by M.S. Rau Antiques' President and CEO Bill Rau. This insightful, beautifully illustrated volume sheds new light on the history of 19th-century European painting by examining the works of over 200 masters, covering dozens of movements from Romanticism to Impressionism, and everything in between. Masters of 19th-century art, including Corot, Bouguereau, Alma-Tadema, Godward, Monet, Renoir, van Gogh, Pissarro, Mönsted, Grimshaw, Dawson, Elsley, Vibert, Soulacroix, Herring, Sr., Delacroix, Courbet, Lewis, and Gerome are examined.
Touted by scholars for its unparalleled approach in 19th-century art history scholarship, this limited, first edition has generated high demand and glowing reviews.
"An exhilarating journey through a pivotal moment in art history conducted by a captivating docent." –Kirkus Reviews
"…this book is a unique approach not seen before in 19th-century art historical scholarship."  –Vern G. Swanson, Ph.D., author of numerous books, including John William Godward: The Eclipse of Classicism.
Subjects covered in this fascinating book include:
Barbizon • Orientalism • Romanticism • Realism • Pre-Raphaelite Brotherhood • Academic • British Neoclassical Revival • Impressionism • Post Impressionism • Newlyn School • Landscape • Maritime • Genre…and many others!
Click here to order your copy today!