As a part of winning 1st place in the RFA Art Scholarship Competition, the winning student is given the option to use part of their award money to participate in an art summer study abroad program in Italy!
Take a look at the fantastic experiences our past winners have had in Italy!
The 2013 contest winner, Hailey Dupont recently shared her experience with us.  Here's what she had to say:
I first of all want to thank Rau Antiques not only for this incredible experience but for everything they've done for me and will continue to do for other aspiring artists. In the month that I spent in Italy I learned so much and developed, not only as an artist, but also as a person. This whole experience has been surreal and it's something that I will carry with me for the rest of my life. 
The first week I spent in Italy was the cultural introduction where the FUA (Florence University of the arts) students traveled around Italy -from Rome to Tuscany.  I had never been exposed to so much culture, history, and art in one week -it was overwhelming. Everything in Italy is absolutely breathtaking and people pay so much attention to the little things in life that everything they do seems to become a work of art.  Seeing the architecture and art of Rome during the renaissance period is indescribable especially having always read about structures such as the coliseum and paintings such as the Birth of Venus.  Not only is the level of skill used to create these works of art hard to comprehend but the age of them.  I was also lucky enough to have visited Nikki de Saint Phalle's Tarot Gardens in Tuscany as well, which was a very interesting comparison. When I saw the Coliseum and the Pantheon and etc. I felt like I was experiencing the past, which is the exact opposite of how I felt when I experienced Nikki's Tarot Gardens. The Tarot Gardens are based on Tarot cards, a set of cards that are used to determine your fortune or future. There are colorful sculptures everywhere and when you enter her actual house there are pieces of broken glass covering everything making everything a reflection of a reflection. You see yourself everywhere.
In a way I feel like I learned much more than just the Italian culture, as I met people from so many different backgrounds and places such as Nicaragua, Colombia, Mexico, and Turkey. I connected with everyone so quickly and I think that not only had to do with the fact that I spent so much time with them, but that we shared the same interests. Art is very intimate and personal and seeing them completely put themselves into whatever field of art they were in the program for, I learned not only about their culture and who they were, but also about their view of the world. I feel so privileged to have spent so much time with other artists who could share my ideas with and learn from.
Once I got to Florence I took two classes -Digital photography and Florence Sketchbook. Overall I think my teachers taught me the importance of noticing the little things and taking the time to put myself into my art. My photography teacher was a portrait photographer and I've always been more inclined towards drawing people. He helped me in the sense that I learned how to capture people's expressions and movements, which I could also translate back to my art. He taught me how to not only capture a moment but how to tell a story through a single picture. My sketchbook teacher in a way taught me the same thing. She really stressed the importance of putting emotion into every sketch and to not worry as much about the technical details when sketching. Sketch exactly what you see, nothing more nothing less. 
I have learned so much after my trip and I really believe that it's made me a better artist and that it has opened my mind to a lot of things. I will never forget this experience and I hope that more students get the chance to experience Italy like I have because it's made me more independent in every aspect of my life.
Here's some of Hailey's work: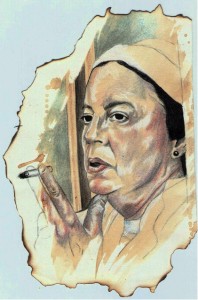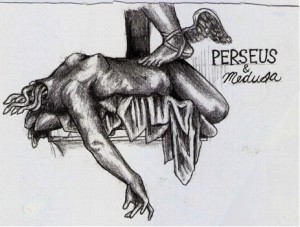 The 2012 contest winner, Jeffrey Nguyen had the exciting opportunity to study at the Angel Academy of Art in Florence, Italy. Below is a stunning painting Jeffrey completed during his time there. Please take a minute to read what Jeffrey had to say about his experience!
Hi, I would like to start off by saying how grateful I am to experience the trip to Italy! I am thankful for Rau for Art for the opportunity to have a life changing experience. I am blown away by the hard work that the foundation has given to help art students achieve their goals. There are no words to describe the feeling of overwhelming excitement of the country and the study abroad program. Within two weeks of the program in Florence, Italy, I have learned so much more than I thought I was capable of doing before. I have also witnessed the beauty of the countryside of Italy where Lake Garda and the mountains reside. I will never appreciate nature as I had in Italy. Overall, my experience in Italy has opened doors to a new perspective about art.
The program I took was a two week painting workshop at the Angel Academy of Art dedicated to classical realism – more specifically, Caravaggio. The Angel Academy of Art is an atelier, which is a school dedicated to the teachings of classical art. I have met people from all over the world in this workshop, which has been instructed by an amazing teacher named Inga Loyeva. She received a Bachelor of Fine Arts degree from The New World School of the Arts, Miami, and is subsequently a graduate of the Angel Academy of Art, Florence. She has completed an art project about Caravaggio and reproduced many of his famous works. As a teacher, she was a pleasure to work with as she taught me many things about not only the techniques of Caravaggio but classical oil painting itself. In the workshop, we have reproduced Caravaggio's paintings, which is the best way to understand his technique. Inga had broken down the painting process into step by step procedures, which helped us gain the most learning in a pacing manner. The workshop became very intense and tough as the workshop progressed, but our instructor has ensured that we had a higher potential than we ever thought we had before.
Throughout Florence, Italy, I was blown away by the art scene. As the birthplace of the Renaissance, I was captured by the architecture, countless statues and sculptures, and famous paintings from the Old Masters. I was able to visit the Uffizi Museum to see many works of the Old Masters, including Caravaggio and Da Vinci. There was also the Statue of David by Michelangelo in Florence! I was struck by the massive size and the power of the art. I'm very grateful to have this experience in my art education.
Italy has influenced my art and artistic vision dramatically. As soon as I returned home, I was ready to pick up my brushes and paint again. My paintings grew immensely after my trip. I have never thought I would be a painter because I have always relied on graphite drawings and never had the chance to really get my hands into paint. I am also glad that I am learning at the atelier, dedicated for the continuance of classical realism. I have learned the methods and techniques of the Old Masters, which has truly helped me to draw and paint from observation. Michael John Angel, the director of the Angel Academy of Art, has said, "Those who do not learn from the masters waste their lives re-inventing the wheel. Priceless knowledge has been sacrificed in the 20th century," he says. "Starting from nothing you can go nowhere, but, stand on the shoulders of giants, and you possess the tools and vision to travel far." Thanks to the Angel Academy of Art, my painting looks like it can be in an old art museum!
I am very glad to have completed my study abroad program in an atelier. I believe I learned so much through the training of classical art than any other type of training in art. By learning through the traditional methods of art, it has allowed me to truly follow the Old Masters' footsteps into greatness. It is guaranteed that learning from the hands of the Old Masters is very rewarding but challenging. I am glad that I took the challenge to expand my knowledge about oil painting and to also stretch out to create works that are my own artistic language. I feel like a little Caravaggio myself!
I would like to end by thanking everyone that has supported and helped me through this contest and trip to Italy. I especially want to thank Rau for Art for putting the effort into the one and only life changing art contest that has helped me to prepare not only for college but for the art world itself. I want to give thanks to the NOCCA faculty who has offered me the connection with Rau for Art. I want to congratulate all the other finalists for a job well done. Lastly, I want to thank my family and friends who has supported me through my work.   -Jeffrey Nguyen, July 2012