The  Teacher Assistance Fund

 assists high school arts educators in their efforts to empower young artists.
 PLEASE NOTE: The Teacher Assistance Fund is on hiatus this year. In response to the pandemic, we created the Art From Home Initiative. You can read about it HERE.
Each school year, the Foundation accepts applications for funds for supplies to help realize exciting art projects in their classrooms. Educators are eligible for art supply awards of $500 to $2,500 for their school's art program. Approximately $5,000 in in funds are awarded each year!
To apply, fill out the online application. You will also need to submit the TAF Supply Request Form with your online application. We strongly prefer teachers apply online. However, if needed, you may mail or fax the printable application. Please use as much detail as possible, so we can best support you!
Supplies for approved entries will be awarded at the beginning of the following Fall semester.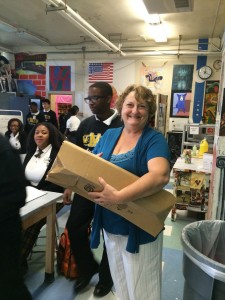 Frequently Asked Questions
1. Can more than one teacher at my high school submit a proposal?
No, at this time we are only accepting one proposal per school. We encourage collaboration on proposals if various art teachers at your school are interested.
2. How does funding work?
The potential maximum award per school is $2,500. Funds will be given in accordance with respective school policies. 
3. How many proposals will be awarded funding?
The number of awards given will depend on the quantity and quality of entries that are submitted. We will do our best to accommodate all strong proposals that adhere to the guidelines.
4. Will you partially award any submissions?
Yes, if we find that part of your proposal meets our mission and other parts do not, we may decide to award only a portion of your proposal.
5. Who is eligible to apply?
High school art teachers and educators from Orleans, Jefferson, St. Bernard, St. Tammany, Plaquemines, and St. Charles Parishes are all eligible and encouraged to apply.
Any more questions?  Contact us at rfa@rauantiques.com
We would like to extend a special thank you to Blick Art Materials for supporting the Rau for Art Foundation's initiatives.