Announcing the winners of the 2018-2019 RFA Scholarship Competition!
On Saturday April 6th, we awarded our winners Scholarship funds totaling $12,500! We want to thank our ten finalists for coming out to the awards Luncheon, and all our entrants this year for submitting some truly amazing and motivating work!
First Place
KATHY NGUYEN 
11th grade, Riverdale High School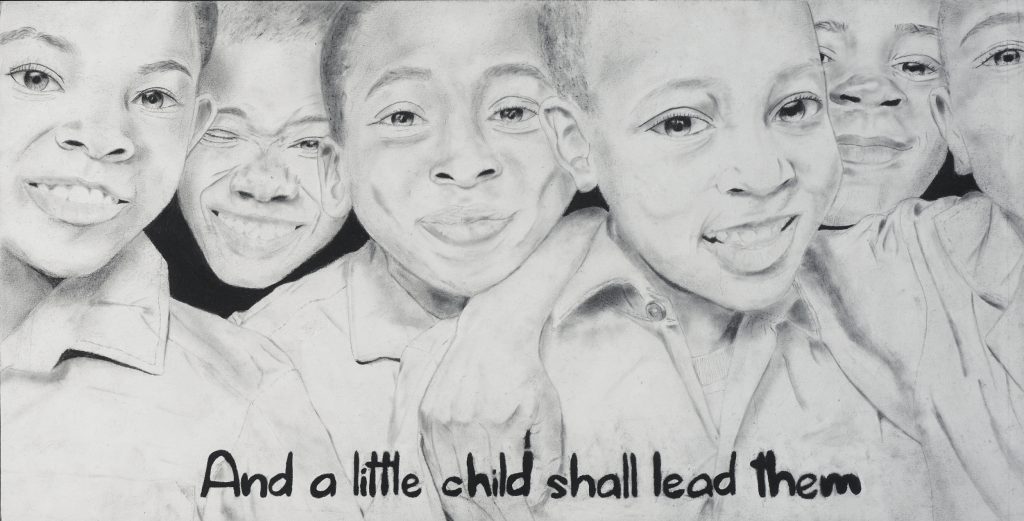 Charcoal and graphite
"John F. Kennedy once said, "Children are the world's most valuable resource, and its best hope for the future." In our world today, we face countless problems. We worry about issues such as climate change, poverty, government corruption, violence, and so much more. These problems are endless, and they manage to appear in almost every place in the world. Where and how will we find solutions to these problems? I feel that the answers lie within the children of today. We as people must be mindful that they are our future leaders, and will hopefully change the world for the better. For them to be successful citizens, we must provide for them, and guide them with the skills that are necessary in order for them to accomplish their goals. Everyone in the world wants children to have a good, solid foundation in order to live up to their potential. We all want children to be successful in the path that they choose to walk in life, and for them to overcome the difficult obstacles that may stand in their way. We want them to be able to have a voice and to live in a safe environment. We want them to gain confidence and independence, and to know that they are capable of doing anything if they put their mind to it. Most importantly, we want children to be happy, healthy, and to know that they are valued and loved. In my drawing, I see joy and hope in the faces of these beautiful boys. They have voices, and we need to listen to what they have to say. Let us treasure the innocence that we see in their eyes and do all that we can to give them the strength and the tools necessary to change our world into a better place. Every child is precious, and each one holds a great promise in their small hands."
Second Place
SKYLAR FAZENDE 
12th grade, Fisher High School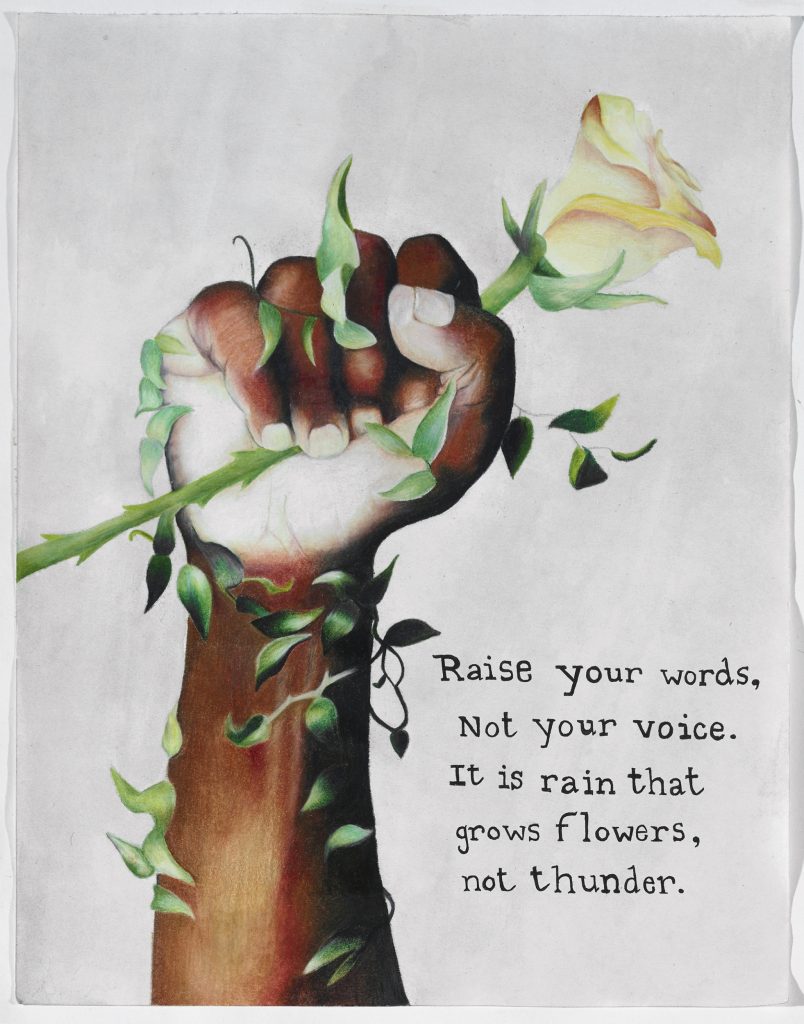 Mixed Media
"In my art, I'd like to bring awareness to personal growth and strength gain. When I first read this quote, the word "grows" caught my attention immediately so I chose for it to be the center of the piece. Pairing it with a hand clutching a rose with thorns stabbing the skin, it helped define a message about strength and growing like a flower."
Third Place
HELEN HOANG 
12th grade, Riverdale High School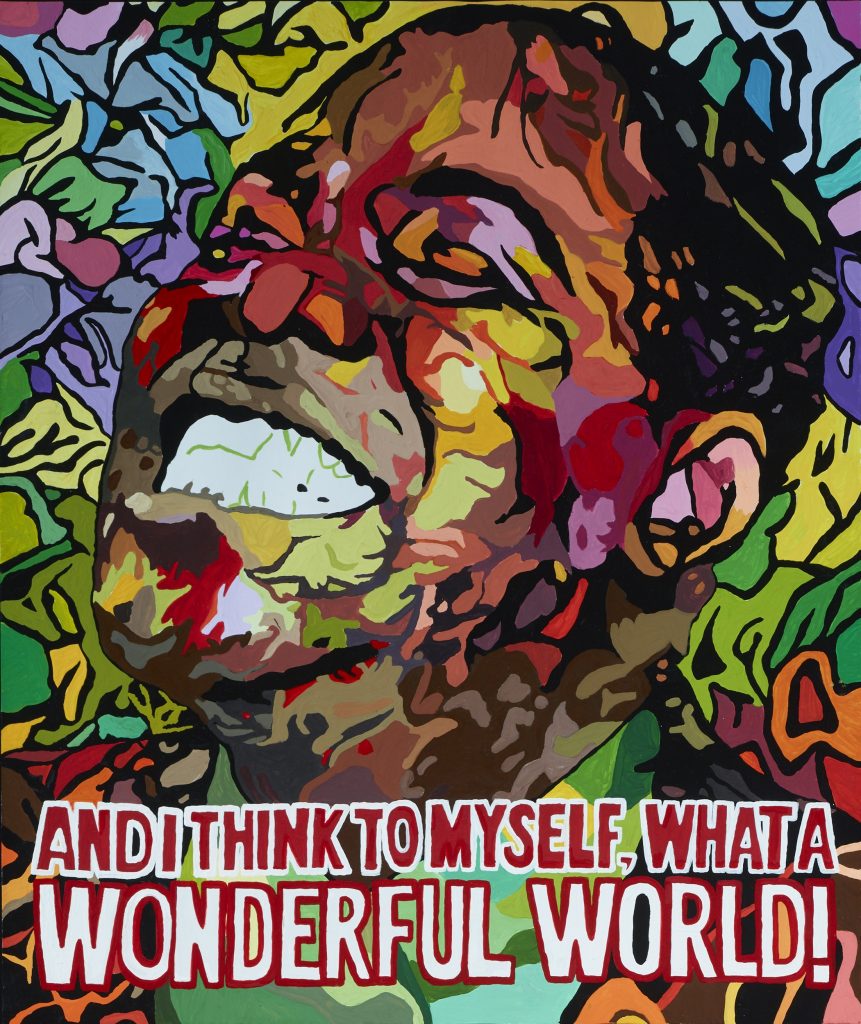 Acrylic 
"This beautiful, iconic song, "What a Wonderful World" was written by Bob Thiele and George Weiss. It has been immortalized by an American musician, the great Louis Armstrong. The writers hoped that Armstrong would perform it, inspired by his ability to bring people of different races together. It is one of the most uplifting, life-affirming songs of all time. Armstrong sings of appreciating the beauty that surrounds you. There are events and natural wonders that make him smile. A rainbow shows that the storm is over, and that clear times are ahead. When he sees friends shaking hands, they are meeting with happy hearts. They love each other. There is also a bittersweet note about the passage of time: "I hear babies cryin', I watch them grow, they'll learn much more than I'll ever know". This shows a hope for the future of mankind. When I was researching the song, I came across some words spoken by Louis Armstrong himself. Before one performance, he introduced the song, saying: "Some of you young folks been saying to me: "Hey, Pops-what do you mean, what a wonderful world? How about them wars all over the place, you call them wonderful?" He continued, "But how about listening to old Pops for a minute? Seems to me that it ain't the world that's so bad, but what we're doing to it. All I'm saying is: see what a wonderful world it would be if only we'd give it a chance. Love, baby, love. That's the secret."
I think this is one of the most inspiring songs of all time. There are vivid images of happiness and joy. In my painting, I depicted Louis Armstrong with his brilliant smile. He is surrounded by the beauty of the colors of the world. Here in 2019, this song, written in 1967 has not lost its power and appeal. It's impossible not to have a positive outlook while listening to "What a Wonderful World". It served its purpose in earlier times, and it serves its purpose today. This song always reminds me to take note, to appreciate the small, precious moments in life. Thank you, Mr. Armstrong, for leaving us this timeless reminder to treasure the beautiful world around us."
See pictures from the Awards Luncheon below!