News and Updates.
Always stay connected with the RFA by following us on Facebook and signing up for our Mailing List.
RFA in the News
Fisher art student's 'dream' reaps $7,500 scholarship
Updated ; Posted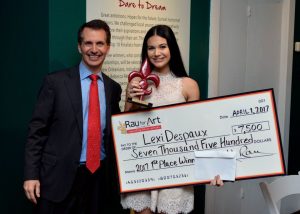 Lexi Despaux, with a desk full of art supplies at her fingertips, was told to "Dare to Dream." That was the theme of the 2016-17 Rau for Art contest. Despaux, a Fisher High School student, did just that and channeled a childhood dream…Read the rest of the story.