Announcing the Rau for Art Scholarship Competition Judges!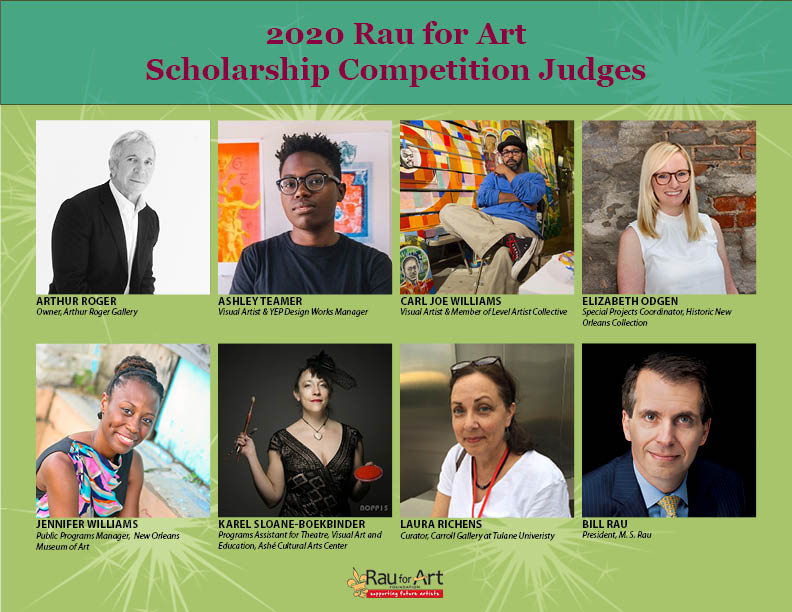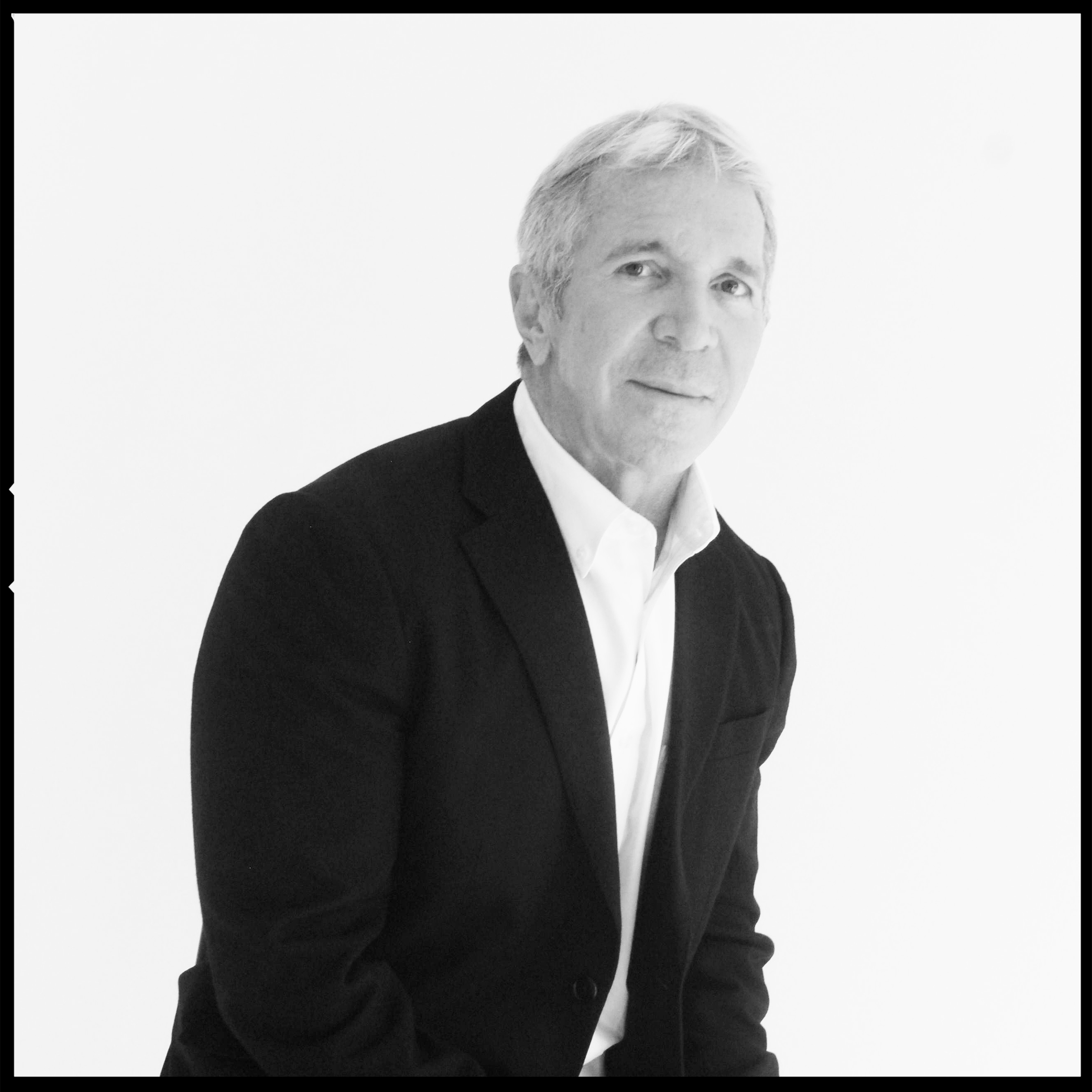 Arthur Roger
Arthur Roger is Owner and Director of the Arthur Roger Gallery located in the Arts District of New Orleans. A native of New Orleans, he worked in art galleries in the French Quarter while attending high school and college. In 1978, he opened the Arthur Roger Gallery on Magazine Street in the Garden District. The gallery enjoyed early success and Arthur soon earned a national reputation as the director of a leading art gallery in New Orleans. In 1988, the gallery moved to its current location on Julia Street, where it has received national awards for design excellence. After the ravages of Hurricane Katrina, Arthur helped spearhead the renewal of the visual arts in New Orleans. In 2009, he opened Arthur Roger@434 adjacent to his gallery at 432 Julia Street. Arthur has served on numerous boards and committees, including the Greater New Orleans Foundation, Contemporary Arts Center, Louisiana Children's Museum, The Ogden Museum of Southern Art, The Mayor's Arts Commission and as an officer in the New Orleans Arts District Association. He originated Arts Against AIDS benefiting NOAIDS Taskforce and has played a leading role in Halloween in New Orleans, the principal fundraising event for Project Lazarus. In 1995, he received the Paul Plauche Award for his fundraising efforts. Among other honors, he received the Young Leadership Award in 1994 and Junior Achievement Role Model in 2009. In 2016, he received the Human Rights Campaign's Equality Award.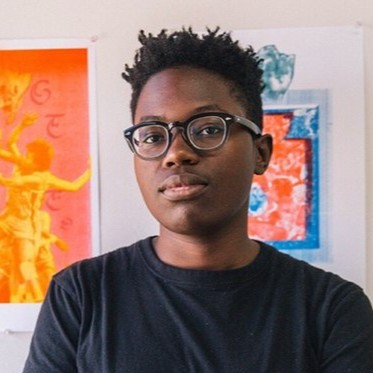 Ashley Teamer
Ashley Teamer is from New Orleans, Louisiana. Her multimedia artwork explores the nuances of black femininity through painting, collage and video. Ashley's work has most recently been exhibited at Siena Heights University, Ogden Museum of Southern Art, Los Angeles LGBT Center and The New Orleans Film Festival. Since 2018, Ashley has worked as a mentor to young creatives at the Youth Empowerment Project's Design Works program in New Orleans.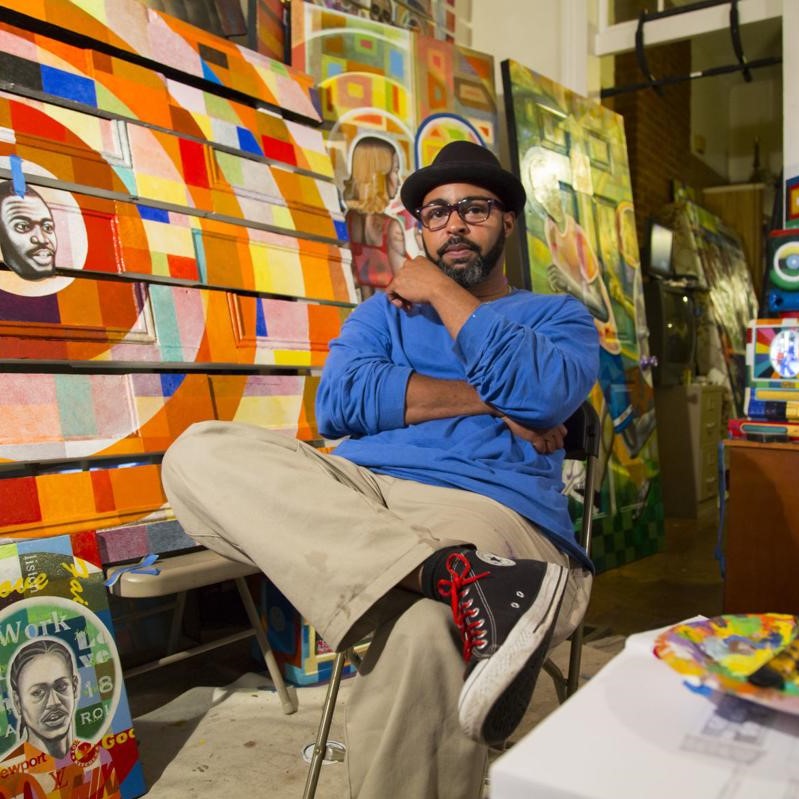 Carl Joe Williams 
Carl Joseph Williams studied at Atlanta College of Art and has produced and participated in solo exhibitions, several group exhibitions and completed several public art projects.Carl's work has been displayed in several venues throughout the United States, including Journeys, an installation at the Hartsfield-Jackson International Airport and Williams' Sculptural Trees installation on the median of Veterans Boulevard.

Carl had a solo exhibition at the George Ohr Museum in Biloxi, Mississippi and was a recipient of the Joan Mitchell NOLA Studio Artist Residence Program. Carl was also selected to participate in the Crystal Bridges State of the Art Discovering exhibition. His work evolved into a multiplicity of visions, directions and intuitive gestures. The paintings, installations and sculptures created are a product of recalled images of cumulative life experiences. Various forms of music, as well as the rhythm of people and places, assist in the creating and molding of the character of his work.

Carl often uses music as a model by incorporating its structure, rhythms and dynamic elements into each piece, emerging into a new realm of experience. Objects are also a very important part of the creation and aesthetic of his artworks. Carl is a Native New Orleanian.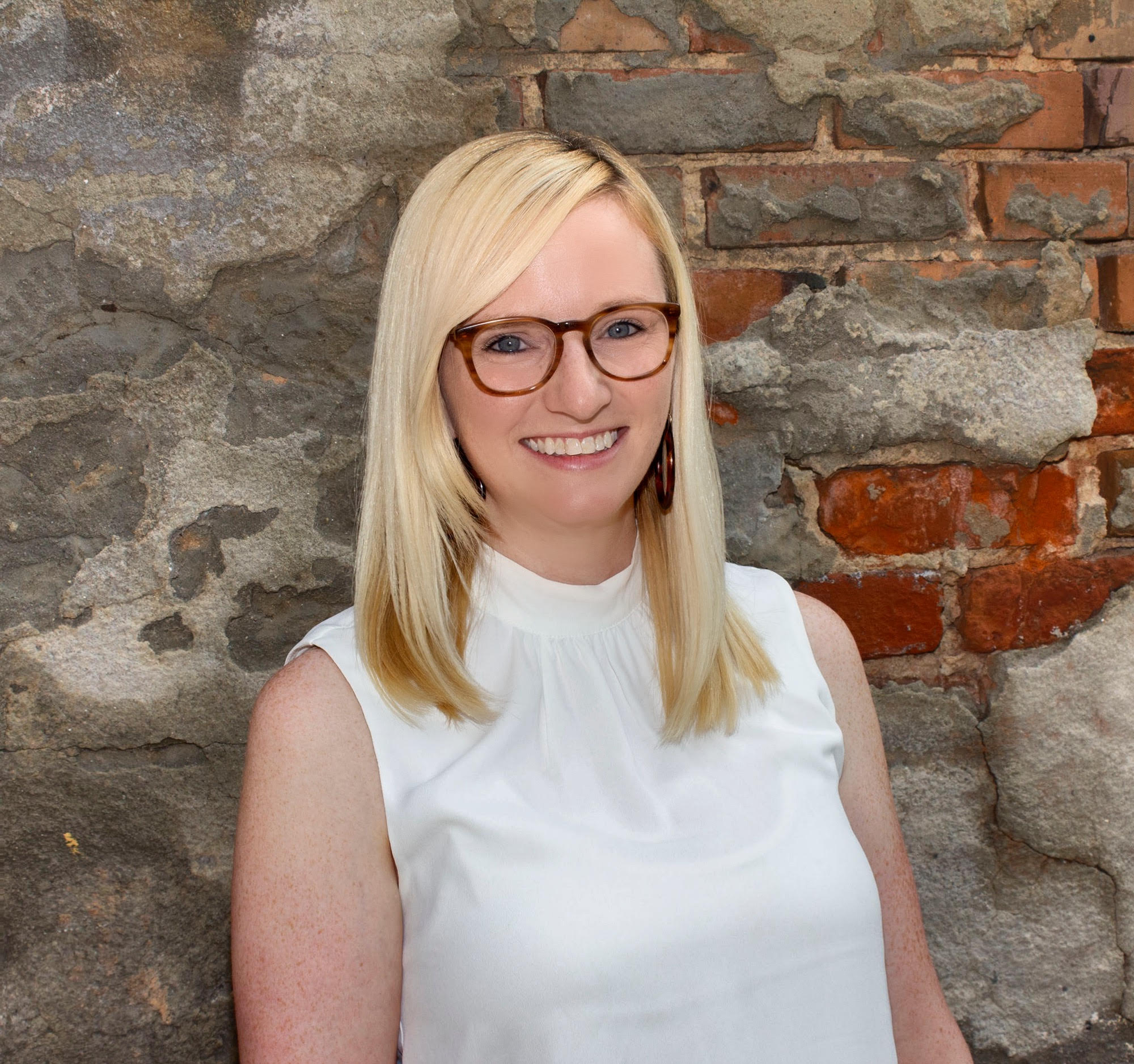 Elizabeth Ogden
Elizabeth is the Special Projects and Programming Coordinator for The Historic New Orleans Collection. She oversees numerous short-term and fast-paced projects for the museum, as well as building events and museum programming. Before working at THNOC, Elizabeth worked for Prospect.1, considered the largest contemporary art biennial in the United States at the time of her tenure. What started in high school with a passion for Southern documentary photography inspired Elizabeth to earn a degree in Art History and Southern Cultural Studies from The University of Mississippi and an M.A. in Art Business from Sotheby's Institute of Art in New York.
Jennifer Williams
Jennifer M. Williams is the Public Programs Manager at the New Orleans Museum of Art. She recently served as the Deputy Director for the Public Experience for Prospect New Orleans. She received her B.A. in History with a concentration in Art History from Georgia State University. Jennifer has lived in New Orleans for over 10 years and moved from her native Atlanta, GA to serve as an AmeriCorps VISTA coordinating projects with the Tulane University Center for Public Service. For over six years, she served as the Director and Curator of the George and Leah McKenna Museum of African American Art. 
As a visual art curator organizing exhibitions and performances, Jennifer is committed to contributing to the cultural and artistic landscape in New Orleans. She supports and serves on a variety of art and community committees and boards, including Junebug Productions and the New Orleans Photo Alliance. She has participated in and led a variety of experiences around the world, including most recently the 2nd Lagos Biennial Curatorial Intensive, the Clinton Global Initiative-U and the Urban Bush Women Leadership Institute in Brooklyn, NY.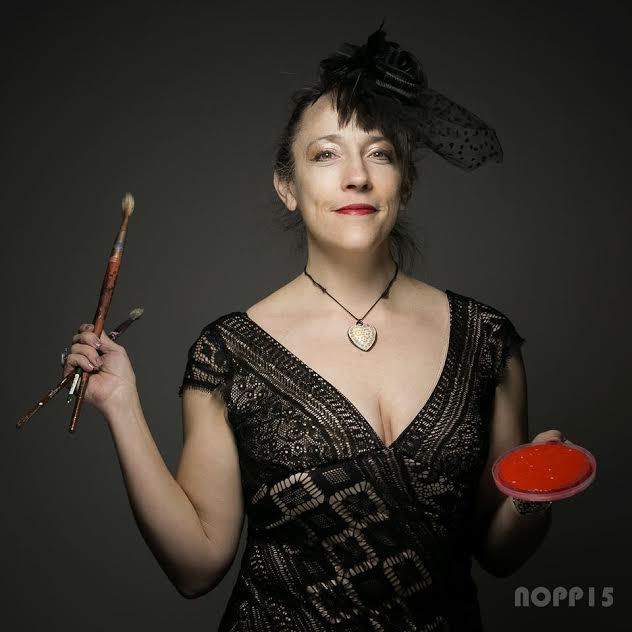 Karel Sloane-Boekbinder
Karel is an award-winning, hard-working, quirky, outspoken versatile artist who educates through avant-garde original creative works that purposefully IN-SIGHT social change. Her disciplines include theater, writing, film, video and visual art. Karel is a SAG Eligible, Equity Member Candidate who has performed nationally and internationally for stage, film, video and radio, and worked in professional theater companies including Southern Rep and the Jefferson Performing Arts Society. As a visual artist, she has exhibited artwork in Connecticut, Florida, Nebraska, Maine, Georgia and Louisiana and completed two 8'x11' outdoor murals locally for the Lakeshore Property Owners Associations at the intersections of Canal Blvd., Robert E. Lee and Lakeshore Drive. As part of the New Orleans Street Gallery coordinated by CVUNOLA.org., she has completed 12 utility boxes (48 small murals total). As a videographer, she created work for One Day in NOLA, as part of the PBS One Day on Earth series, the Flapjacks Lincoln Productions video "Save Our Swamps," which was a first-place winner of the GRN PSA contest, and the Ashé Cultural Arts Center's music video for the Pearl Jam single "Gone," which received third place in a juried competition. When not making art, she teaches Sunday school for St. Anna's Episcopal Church and serves on the board of the newly established Homer Plessy Community School. Photo credited to Gus Bennett and the New Orleans People Project.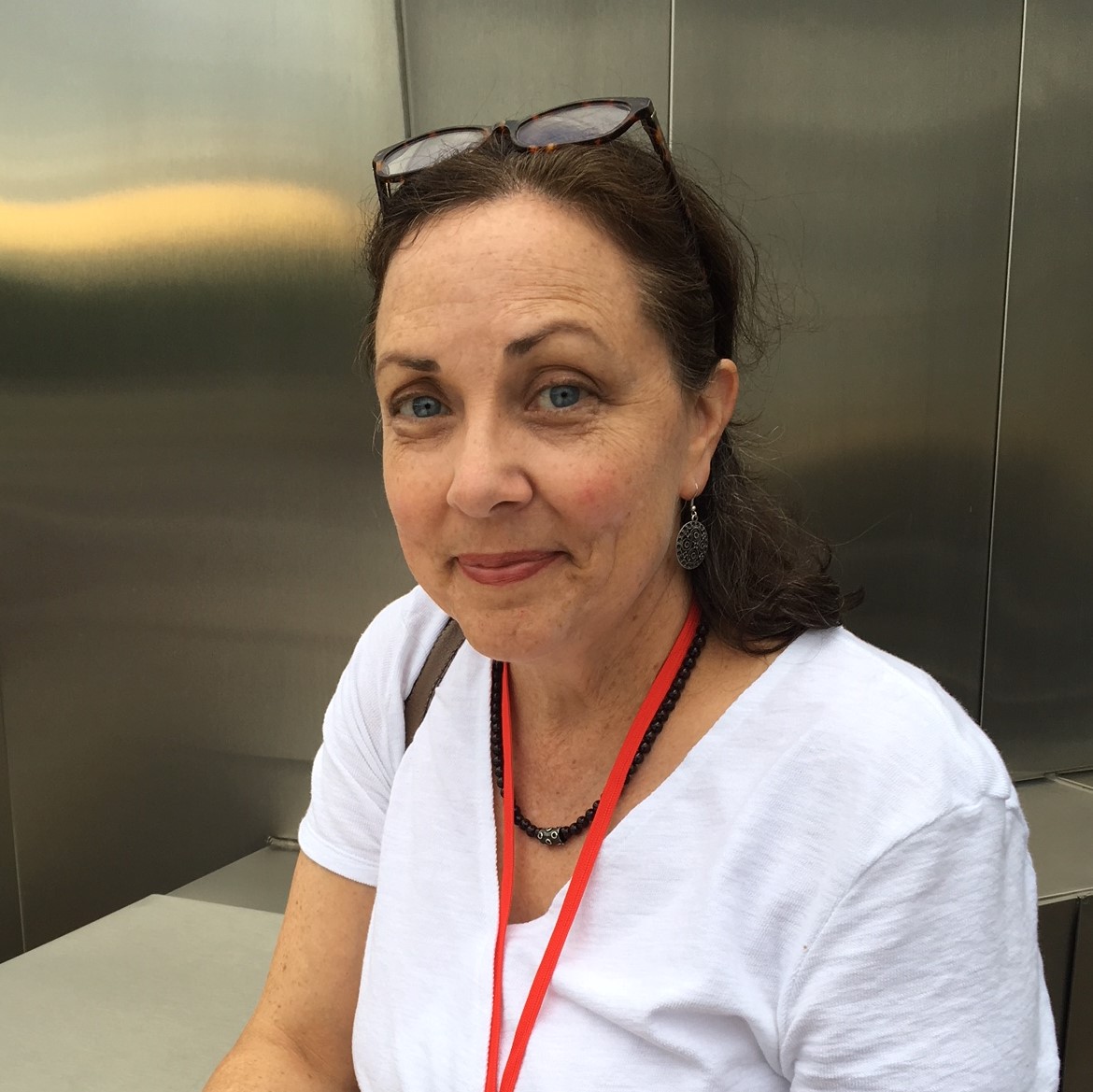 Laura Richens
Laura Richens is Curator of the Carroll Gallery in the Newcomb Art Department of Tulane University, where she also teaches as an Adjunct Professor in the Art Department. She previously served as Assistant Curator of Visual Arts at the Contemporary Arts Center in New Orleans, and Registrar at the Memphis Brooks Museum of Art. Laura is also a practicing artist, exhibiting her work regularly at Hall-Barnett Gallery and Atelier Mimi in New Orleans, and has been featured in group exhibitions at Loyola University, Delgado Community College, the Contemporary Arts Center, Tall Grass Arts Association (Park Forest, IL) and many other venues. She has led many artist's workshops throughout the area in printmaking, letterpress, drawing and bookbinding, and taught at the Penland School of Craft. She is a native of Memphis, TN, but has lived in New Orleans for more than 25 years. She received a B.A. in Art from Rhodes College and an M.A. in Art History from the University of Memphis.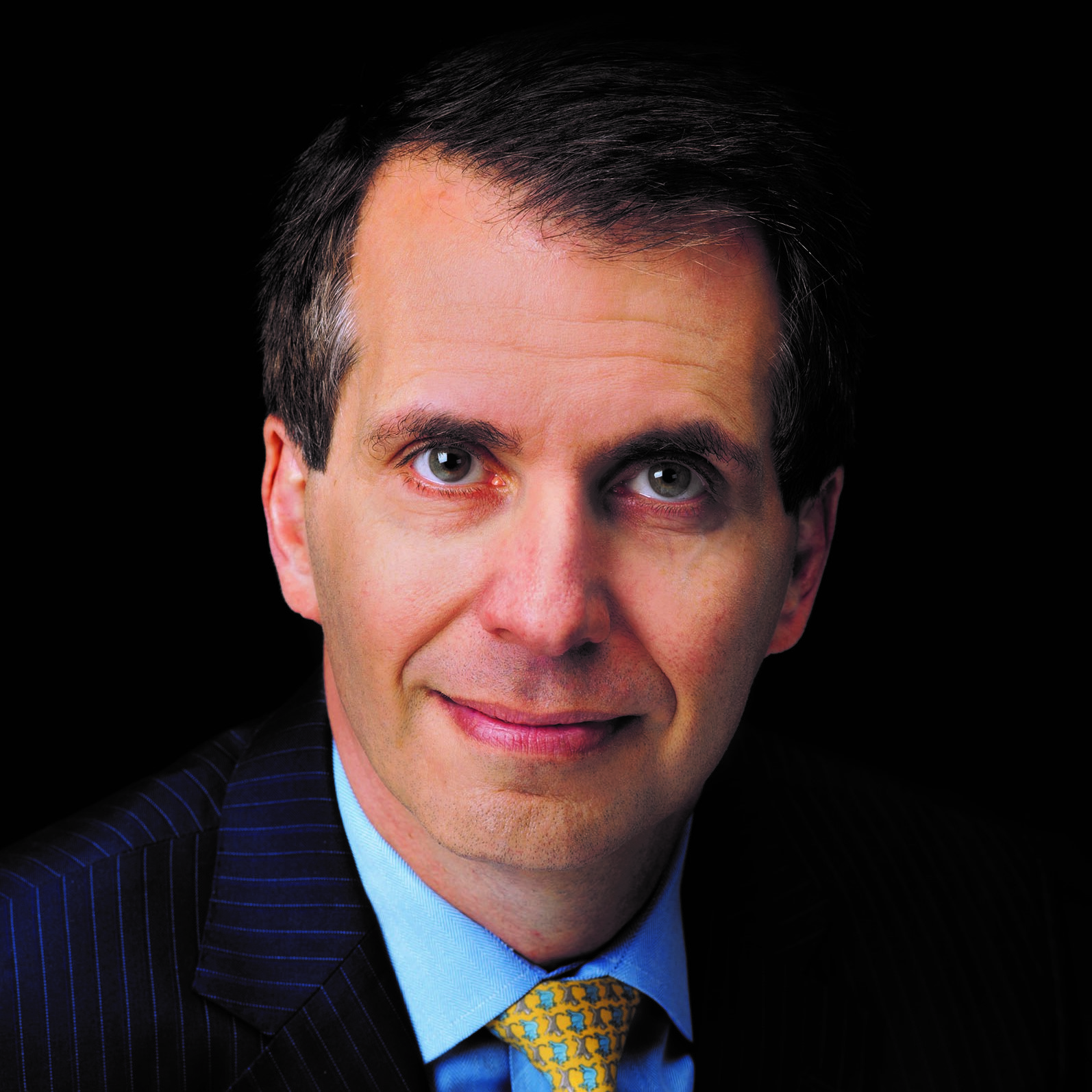 Bill Rau
Considered one of the foremost experts on 18th- and 19th-century European and American antiques and fine art, Bill Rau has worked in the family-owned gallery since the age of 14. After graduating from the University of Colorado in 1982 with a degree in Business, he returned to his hometown and began a highly successful career as a respected antique expert and gallery owner. An avid collector as well an authority in his field, Bill has helped to place items in museums around the world, including the New Orleans Museum of Art, the San Antonio Museum of Art and the Instituto Ricardo Brennand in Receife, Brazil. His book 19th Century European Paintings is a highly regarded resource for collectors and scholars alike.
Today, Bill serves as President of the Royal Street Guild, and is a member of the Wedgwood Society of New York and Boston, the American Cut Glass Association, the National Association of Watch and Clock Collectors, the Music Box Society International, the Better Business Bureau, the New Orleans Chamber of Commerce, and the Young Presidents' Organization.