Announcing the winners of the 2020-2021 RFA Scholarship Competition!
As the school year comes to a close, it is time to announce the winners of the Rau for Art Foundation's annual Art Scholarship Competition. This year we were fortunate enough to have an exceptionally talented pool of submissions and a top-notch group of finalists. To view all the finalist works in our online exhibition, click here. Congratulations to our winners! 
First Place
David Nguyen 
10th Grade, Thomas Jefferson Academy
An Amalgamation of Adventures
Colored pencil on paper
Adventures are some of the most exhilarating and memorable experiences that almost everyone dreams of partaking in. This artwork includes a collection of adventures that I participated in or dreamed of. The rope bridge, for instance, was during a trip to Anakeesta where I walked across their treetop skywalk. Moreover, the mountains in the top left are part of the Teton National Park that I visited and the buildings in the middle are along Bourbon Street in New Orleans. Furthermore, I also included fantastical elements such as the sunrise and night sky to encapsulate the qualities of a dreamscape. Five-point perspective was used to exaggerate the aspects of the drawing. Color was applied in layers using colored pencils. The artwork attempted to showcase the grandeur, magnificence, and overall spectacle of adventures. An adventure can lead to many things, and in this artwork, it led me to excitement and joy.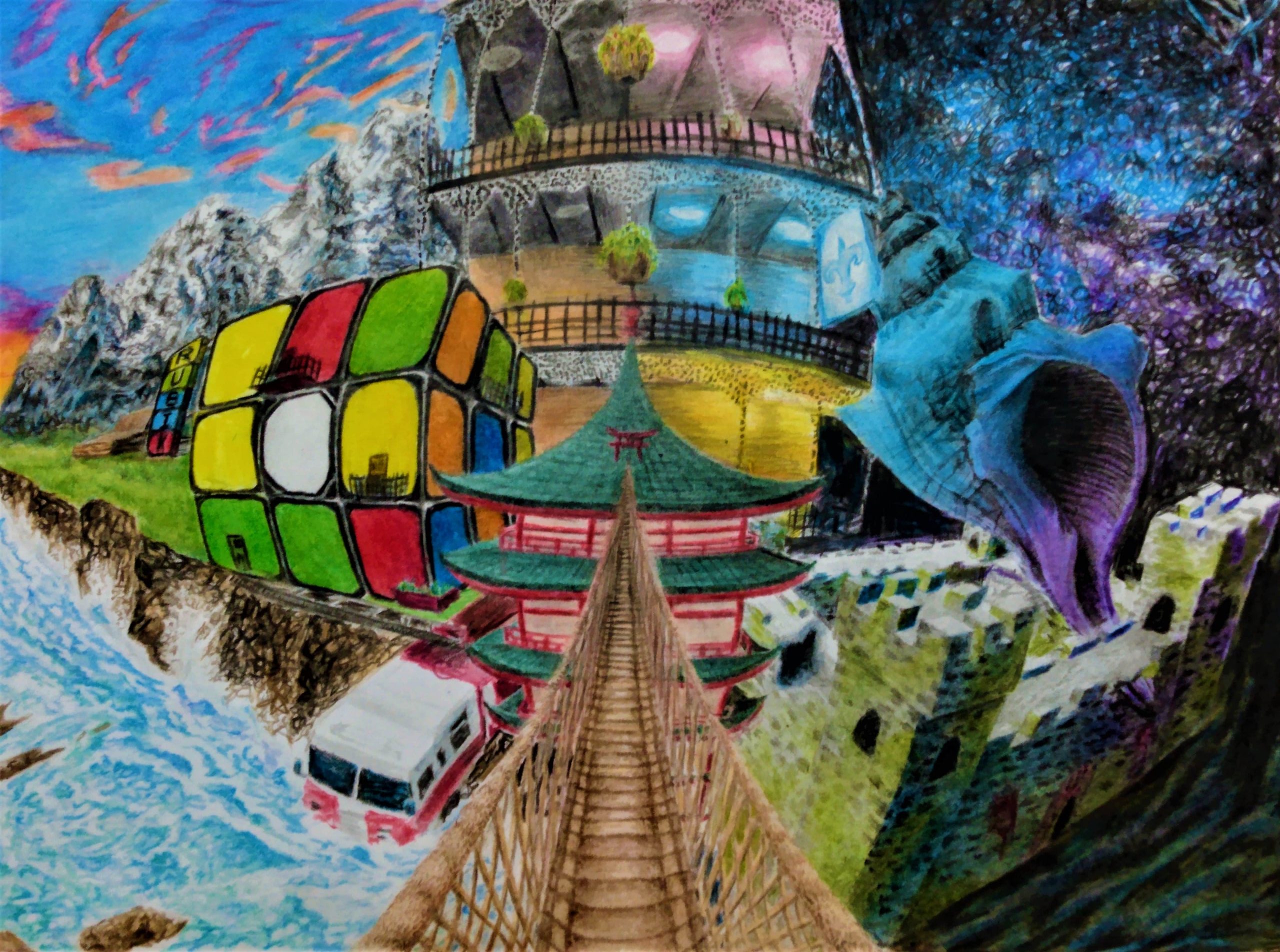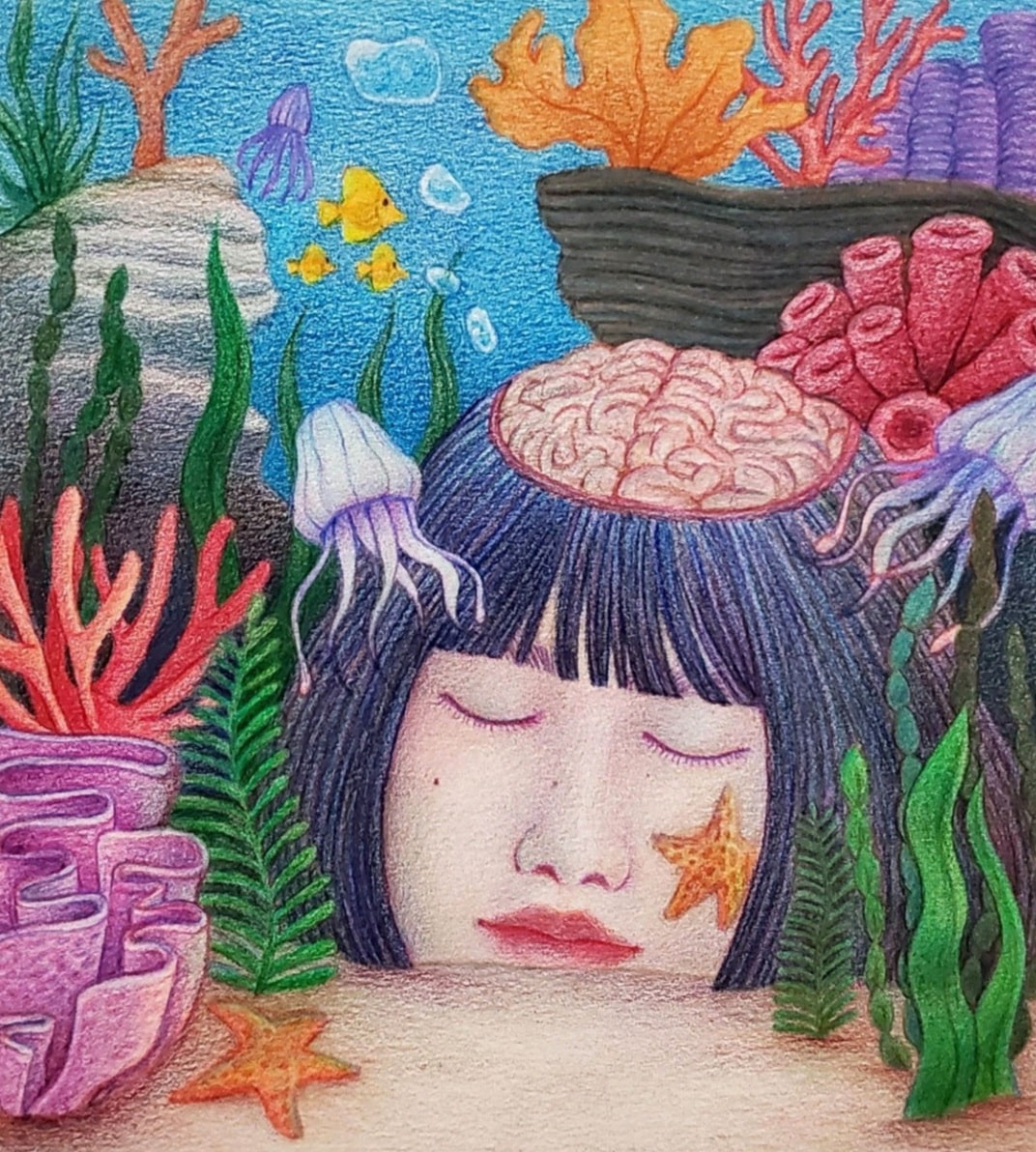 Second Place
Yen-Nhi Nguyen 
12th Grade, Thomas Jefferson Academy
Deep in Thought
Colored pencil on paper
I wanted to express myself as much as possible with this piece, so I decided to choose my face as the subject. The artwork portrays me on the sea floor, with my brain exposed and surrounded by coral and fish. I often spend my time daydreaming and exploring my imagination, and eventually, it became my daily escape from reality. My head buried in the sand of the sea floor represents me being "deep in thought." Because the piece is supposed to take place deep underwater, I wanted to connect that representation to the visuals. Meanwhile, the marine life surrounding me symbolizes the many thoughts that cluster and dominate my mind. Like how the majority of Earth's oceans have yet to be fully discovered, I have yet to "discover" the various ideas that collect in my brain and put them on paper.
Third Place
Josh Nguyen
10th Grade, Archbishop Shaw
Vivid Memories
Pen and ink, marker, colored pencil and watercolor on Bristol
This work means a lot to me. In the process of creating this, I've been able to express my thoughts and experiences in Asian culture. However, my piece doesn't just speak on my experiences, but also the challenges of the new generation of Asian Americans. I feel that as young Asian Americans, we as a whole are forgetting our traditions and roots. Through my dreamscape, I was able to incorporate many aspects of our colorful history and culture that must not be forgotten.